Looking for a place to settle into Atlanta
Friday, June 29, 2012, at 05:40AM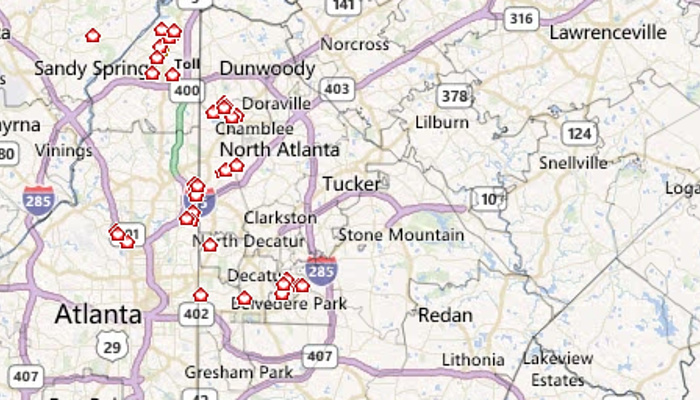 Zillow.com
A map of homes we saved as favorites during a weekend of driving around Atlanta.
Two weeks ago today Kathy and I landed in Atlanta, kicking off our new post-California life. It's an auspicious anniversary: today's high is either 103 or 105, depending on which forecast you look at.
We're starting to get used to our new routines, but won't really be able to get settled in until we find a house and can get the rest of our things out of the storage unit we dropped them off in when the moving truck arrived. Last weekend we put in some major miles toward that process, driving a big chunk of the city to get a feel for where we might be looking.
While we'll be working with my uncle to actually pick a place, our weekend's exploration was mostly powered by Zillow. After doing some initial research online, Kathy drove and I navigated as we wound our way around neighborhood after neighborhood doing drive-bys of homes in our price range.
We probably spent ten hours in the car between the two days, and then supplemented that with a heavy dose of research into schools on Saturday evening.
Zillow was a huge help, and we made good use of it across the web, iPhone and iPad platforms. In the process, though, I arrived at some thoughts about what I would like to see changed.
On the web, Zillow will give you the schools for a listing, but it won't give them to you on the iPhone or iPad. While a multi-platform application has to build its user interface around the unique traits of each platform, feature parity is important in creating a consistant experience.

Integration to link to or pull in school info from something like schooldigger would be a real time saver. Lots of flipping to a new tab and googling for "es name schooldigger". Taking a next step forward to show map overlays with elementary districts would be even better.

Though I can't say I've done a huge amount of looking, I haven't found an app that will give me census information for the tract I'm in right now. Why isn't there an app that does the same sort of visualizations as the NY Times' census maps?

Zillow lets you make a "Favorite Homes" list, but we really wanted the ability to do multiple lists breaking listings down by "Good Schools", "outside the perimeter", etc.
We'll be taking a break this weekend to host a friend, but after that Kathy and I will start the process of actually touring homes. We've got our target area in mind, so now it's just time to look for the right place to come on the market and make a move.
---